Learn with us how to take your makeup to another level, because the lips are one of the elements of the face that attract the most attention.
1. Lip scrub
The first thing you have to do if you want your lips to look perfect after having made up, is to perform a previous exfoliation. To do this, use a special lip scrub or, if you don't have one, just take a soft toothbrush and rub it over your lips with gentle, circular movements.
In this way you will be able to eliminate dead cells from the lips and they will be soft and free of imperfections.
2. Maximum hydration
After you have exfoliated your lips, you should moisturize them. To do this, apply a good layer of Vaseline on your mouth and wait for it to be completely absorbed before starting to apply lip makeup.
3. Outline the contour
Before applying the lipstick, you must outline the contour of your mouth with the help of a liner that is the same color as the lipstick that you will use later. To outline the curve that surrounds the lips, outline it without leaving the natural line, since if you do it the result will be very unnatural.
Then fill in the inside of the lips with the same liner. In this way you will make the lipstick last longer and the result will be more natural.
4. Apply lipstick
The next step for your lips to be spectacular is to apply the lipstick with the help of a brush so that the color is more fixed and the line is much more precise than if you applied the lipstick directly on your mouth.
Then, wipe them with a tissue to remove excess paint, and then apply another coat of lipstick to make the color more durable and intense.
5. More volume
If you have thin lips and want to give them more volume and voluptuousness, apply a little gloss on the center of them, once you have finished applying makeup. The intense shine will make your mouth look fuller and more striking.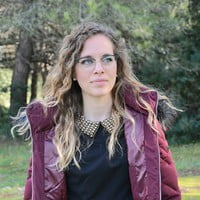 I've been working as a digital marketer for years now, with my expertise in SEO and SMM. Blogging has been one of my hobbies since I can remember. Sharing experiences and knowledge.